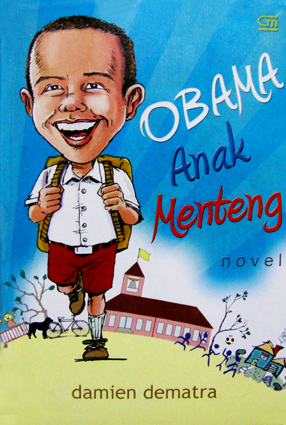 This week the Multivision Plus Pictures production house began filming Obama Anak Menteng ("Obama the Menteng Kid"), a children's film about President Barack Obama's childhood years in Indonesia, based on a book with the same title by Damien Dematra. A press conference and selamatan was held at Plaza Senayan in Jakarta on Tuesday 11 May to announce the start of production and introduce the cast. Dematra, who also wrote the screenplay and will co-direct the film, spent five days interviewing 30 people, mostly former classmates, who knew "Little Barry" when he lived in Menteng, a residential neighborhood of Jakarta, between the years 1967 and 1971. He spent another five days writing the book. Multivision plans to complete the shooting within two weeks and release the film in mid-June, to coincide not just with Obama's (re)scheduled visit to Indonesia, but also with public school recess.
In the space of a few months, the Obama Anak Menteng project—both the book and the feature film—will be complete, perfectly exemplifying the Indonesian phrases asal jadi or asal kelar, a slapdash effort. This is Multivision's specialty. They are known more for television sinetron, Indonesia's formulaic soap operas, shooting and editing scenes until moments before broadcast, with insufferable production values. On the big screen Multivision produces low budget horror franchises such as the Kuntilanak and Pulau Hantu films. As an American who has spent years living in Indonesia and (full disclosure) voted for Obama, I am worried this project has the potential to be an irresponsible disservice, if not an insult, to its subject.
Obama's childhood in Jakarta is an irresistibly compelling subject for Indonesians and Americans alike; so let's start by giving Damien Dematra and Multivision the benefit of the doubt. In Dematra's own words:
The point of view in this film is from Obama's friends. It's not a true story but based on true events (bukan kisah nyata tapi berdasar kejadian nyata). There are so many perspectives on Obama's childhood when he lived in Menteng. His friends such as Slamet, Yuniardi, and others have unique stories based on their point of view.
I will grant Dematra some baseline credit for having a terrific idea. Since we probably won't get anything more from Obama than what he already wrote in Dreams from my Father about his years in Indonesia, then the obvious next step is to talk to the people who knew Obama and his parents. Although Dematra hasn't fully convinced me on the distinction between true story (kisah nyata) and true events (kejadian nyata), I'm going to generously assume that he's privileging personal vignettes from the people who knew Obama over a singular biographical narrative. From there one could piece together some episodic memories into an evocative narrative mosaic. Anthropologists love the "partial narrative" and "memory politics." In the right hands, this could work.
Dematra's personal website reveals him to be a champion of Indonesian pluralism in the tradition of Gus Dur, and this is the angle that Dematra wants to take with Obama Anak Menteng: "Obama is an icon of pluralism who proved to the world that although he was different, and from the minority, he could aim for the top and beat the majority." They are calling this a children's film, and Obama's childhood, as recalled through the memories of his Indonesian friends, broadly lends itself to an inspirational "yes we can" narrative of greatness born out of humble and decidedly pluralistic beginnings. Obama himself loves "teachable moments." His years in Jakarta certainly qualify as instructive material about diversity, pluralism, achievement, and leadership. Again, in the right hands, this could work.
This same sentiment underlies the effort that brought a group of Menteng residents, other Indonesians and ex-pats together to raise money for a statue of Obama as a child that appeared for a few weeks in a public park in the neighborhood. The idea was not to honor "President Obama of the USA" but to celebrate the childhood of "Little Barry" in their own community as an inspirational example of every child's potential for greatness. And while I believe that a majority of Indonesians are proud of Obama's connection to their country, the statue was too much for a disproportionately loud minority of ultra-nationalists who argued that public space should not be given over to statues of foreigners, that Obama hasn't yet proven any tangible contributions to Indonesia to deserve a statue, that there are plenty of Indonesian national heroes who deserve recognition over Obama. A facebook group (TURUNKAN PATUNG BARACK OBAMA di TAMAN MENTENG) opposing the statue garnered more than 57,000 members, and the organizer of the movement filed a lawsuit against the Jakarta municipal government. Within a few weeks the statue was relocated to Obama's former elementary school. The film will surely inspire a similar reaction. Trash tabloids are already posting headlines like Mengapa 'Obama Anak Menteng' Pakai Pemain Asing? (Why is 'Obama the Menteng Kid' Using Foreign Actors?) that invite ugly sentiments in the comments section.
The film may also provide fodder for a similar group of disproportionately loud conservative xenophobes in the USA. Dematra claims to have "proof" that Obama prayed to Mecca and practiced Islamic chanting, and he reserves the right to depict that in his film because it is part of the inspirational message he wants to pass along to Indonesian children. As of last week's press conference, Multivision has not made a decision yet whether to include this in the film, and they recognize the sensitivity of the matter in the contexts of American politics and bilateral relations between the USA and Indonesia.
I have not read the book yet, so I will not judge the quality of Dematra's five days research into Obama's childhood in Menteng. Having looked at his website and the promotional material for the film, Dematra clearly has good intentions. The project is worthy and fascinating. But I keep coming back to the facts: five days of interviews, five days to write a book, two weeks of filming, two weeks of editing. Dematra's goals may be noble, but I can't say the same for his workflow, and there's nothing to recommend Multivision's own track record of crapass production values. Asal jadi. Asal kelar. These are not the right hands for producing what might have been an interesting and poignant account of one of America's and Indonesia's only joint historical figures.